Solutions pour développer et promouvoir des projets et des produits à sens : créatifs, culturels, gourmands
A bird's-eye view of Nantes in extraordinary circumstances. Don't miss "Les machines de l'Ile" in one of the most vibrant cities of France.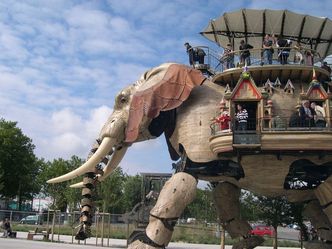 The mechanical elephant at "Les Machines de l'Ile" in Nantes
How to describe the thrill that I feel when around the corner we come face to face with this magical giant of the jungle eating up the tarmac of
Nantes historical dockland island
on the
Loire
? I'm pretty sure I saw him wink at us.
François Delarozière
et Pierre Orefice, the talented duo behind the mechanical prowess of France's hottest street theatre company, the
Royal de Luxe
, have struck again (check out the
giant spider over Liverpool
not so long ago). The elephant seems to be breathing heavily with the effort of each step.
In true
Jules Verne
style (another of this city's famously creative inhabitants), the two have been given a chance to fulfil their wildest dreams with the
Les Machines de l'Ile
. A massive workshop and exhibition space, housed in Nantes' former boatyards, has become the base for projects including the Heron tree, a vast architectural sculpture for the city and the European Centre for Flight Simulation. There are also some rather more profound exhibits, including a weird and wonderful menagerie of deep-sea creatures destined to revolve on a giant multi-tiered carousel. All in working order of course!
You can see new machines being created in the
workshops
by master craftsman in woodwork and metalwork and discover the secrets of these marvellous contraptions in the beautifully detailed preparatory drawings.
We enjoyed refreshments at the
Café de la branche
and my 5 year-old son was mesmerized by
Andrea's roundabout
outside.
To get a flavour of what else Nantes has to offer on the wild side, check out the website :
"a journey to Nantes"
...
PS. The giant elephant was inspired by Jules Verne's novel "The steam house" , featuring a mobile house pulled by a steam-powered mechanical elephant through India.
---
---
Terroirs et cohérences est une entreprise de conseil et de formation.
Georgina Gensollen McDermott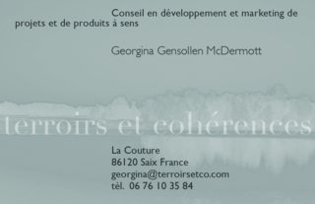 ---
---
---
---
---
---
---
---
---
---