Solutions pour développer et promouvoir des projets et des produits à sens : créatifs, culturels, gourmands
The new incarnation of the Jules Denais museum in Beaufort en Vallée reveals fascinating fragments of local history and titbits from further afield.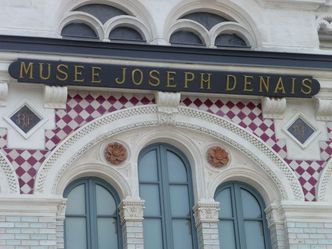 The Musée Joseph Denée in Beaufort en Vallée
I love to visit the smaller countryside museums of France. As often as not there is something for everyone and that is really what Joseph Denais had in mind when he opened up his museum here in the early 1900s.

He began his collection as a boy of 15 after discovering that an old coin he had been given by a friend dated from the 1st century of the Roman Empire. From then on, he began amassing treasures, with a marked preference for curiosities with a story. He bought none of the objects you can see on show in the museum today. They were all gifts from people who understood his passion. From the exotic (Eygptian mummies) to the mundane (kitchen utensils), his collection is like the entries in an encyclopaedia. As a well-travelled journalist and writer, he wanted to create a place where his fellow citizens could get a taste of the wider world and all its marvels. Natural history, the arts, archaeology, ethnography and local history and more are covered in this giant cabinet of curiosities. Curiouser and curioser...



Beaufort en Vallée, the church
I was touched by some of the very ordinary everyday objects on show: a boxwood eggbeater from a local convent and a small mirror rescued from the sack of the Tuileries Palace during the
French revolution
and brought back by some Loire riverman, who may well have attended the scene.
The museum is situated in a wonderfully ornate building, which used to belong to the local savings bank "La Caisse d'Epargne", just near the
church
. This has recently been beautifully restored, as have the collections, which are given a new life displayed in glass cabinets with drawers that you are invited to open to discover more. However, the rooms and their layout have been preserved much as they always were, making them a precious example of a 19th century museum.
The ground floor is a temporary exhibition area where you can see contemporary artworks from Antoine de Galbert's personal collection. He is a private art collector who is responsible for the Arts foundation in Paris called the
Maison Rouge
. The exhibition called "Joseph et moi" is constructed as a dialogue between the two men's collections. Indeed, they share a passion for the unusual.
Take the time to look around
Beaufort en Vallée
which is full of interesting buildings. We bought some bread and delicious charcuterie from the local butcher there before heading off to the banks of the Loire for a well-earned picnic lunch.
Rédigé par Georgina Gensollen McDermott le Jeudi 11 Août 2011 à 20:18
---
---
Terroirs et cohérences est une entreprise de conseil et de formation.
Georgina Gensollen McDermott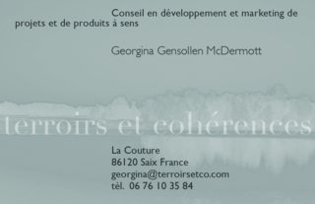 ---
---
---
---
---
---
---
---
---
---