Solutions pour développer et promouvoir des projets et des produits à sens : créatifs, culturels, gourmands
Mug shot from Atelier Polyhedre, a very talented duo from Nantes that I have the pleasure to work with on presenting their products in the UK
Mugshot from Atelier Polyhedre
A series of mugs with handles that are baroque, anatomical or geometric, MUG SHOT is a tribute to the unmatched collections to be found at the back of the kitchen cupboard.
Devised as an exercise in handle styles, above all, it's an excuse to glorify a mundane item and create a little excitement. A mug is a personal object, which can also reveal something of the owner.
The choice of profiles is a tacit invitation to show ones' real face to the world.
Now on sale at
Paul Smith
in the UK.
For more information, please contact
Atelier Polyhedre
Baptiste YMONET & Vincent JOUSSEAUME
16 rue de Coulmiers 44000 Nantes
Telephone : 06 60 27 90 79 - Email : contact@polyhedre.com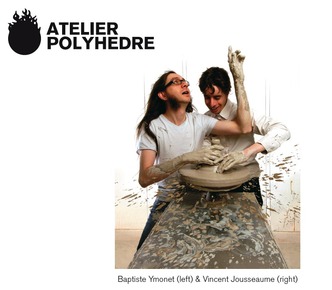 Baptiste and Vincent from Atelier Polyhedre
Mixing tradition and innovation, Atelier Polyhedre stands out for the way in which it approaches
ceramics. New products are the fruit of the designers' inspiration. Potential sources abound: an everyday object or a chance encounter, anything can trigger off the impetus to create.

Once the duo have a design in mind, the next phase is purely technical. Together they experiment and challenge the established codes and methods whilst searching for solutions to produce the desired object. This is an essential part of the creative process, which allows them to achieve truly atypical pieces.

Prototypes are developed at the workshop using both plaster and clay. Baptiste and Vincent often employ unusual tools to ensure the perfect design – they might use cooking implements, for example, to obtain a desired shape.

Fluctuating between minimalist rigour and baroque exuberance, between the geometric and the organic, the Polyhedre designers play with aesthetic codes and references, combining colours and styles to create freshness and quality – characteristics, which shine through the quirky identity of their designs.

All pieces are made of earthenware, hand crafted by the designers in their riverside workshop. Moulds are produced once the model is finalised and limited series are obtained by stamping and by casting in barbotine (slip – or liquid clay). Small-scale production ensures that each object is unique, created using traditional fine craft techniques, albeit now and then in a somewhat unconventional manner.
---
---
Terroirs et cohérences est une entreprise de conseil et de formation.
Georgina Gensollen McDermott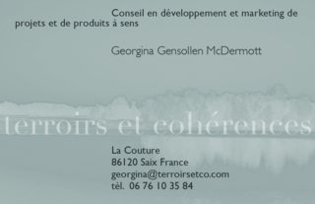 ---
---
---
---
---
---
---
---
---
---